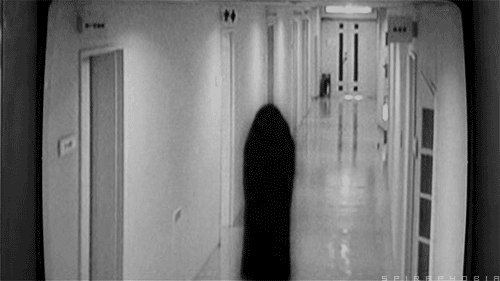 Demons its called a Demon.....
US Military flies in the Habitat of demons of the Darksome Atmosphere 24/7 so is it any wonder that one of these Demons of the Darksome Atmosphere pays a visit to our habitat?
This is what happens when you don't believe in God....you end up calling Demons "Shadow People"
In the Summer of 2006, while working a night shift maintaining a dummy practice bomb, the nuclear weapons tech encountered what he describes as a "shadow person". First he heard footsteps – but not the familiar sound of one of his Air Force comrades in standard-issue combat boots. The mystery intruder appeared to be padding round the high-security base bare-footed.After hearing the footsteps a couple of times he got up to investigate, and had a chilling encounter with something that was not entirely human. "I saw what I can't really describe as other than a black mass in the shape of a person standing at 6ft," he says. "Not really a shadow but something that was slightly blurry and didn't reflect any light" The base is well-guarded at all times and it's almost impossible for an unauthorised person to gain access to its sensitive inner areas undetected.But someone… or something… managed to get very close to a weapons storage area without tripping any alarms. These days the US military is much more open to reports of so-called "UAPs" than it was in the past, but the focus is still on potential advanced technology being operated by a foreign power.
Source
Summa Th. I EN Qu.64 a.4
Article: 4 Whether our atmosphere is the demons' place of punishment?
Objection:
1. It would seem that this atmosphere is not the demons' place of punishment. For a demon is a spiritual nature. But a spiritual nature is not affected by place. Therefore there is no place of punishment for demons.
2. Further, man's sin is not graver than the demons'. But man's place of punishment is hell. Much more, therefore, is it the demons' place of punishment; and consequently not the darksome atmosphere.
3. Further, the demons are punished with the pain of fire. But there is no fire in the darksome atmosphere. Therefore the darksome atmosphere is not the place of punishment for the demons.
On the contrary Augustine says (Gn ad lit. iii, 10), that "the darksome atmosphere is as a prison to the demons until the judgment day."
I answer that The angels in their own nature stand midway between God and men. Now the order of Divine providence so disposes, that it procures the welfare of the inferior orders through the superior. But man's welfare is disposed by Divine providence in two ways: first of all, directly, when a man is brought unto good and withheld from evil; and this is fittingly done through the good angels. In another way, indirectly, as when anyone assailed is exercised by fighting against opposition. It was fitting for this procuring of man's welfare to be brought about through the wicked spirits, lest they should cease to be of service in the natural order. Consequently a twofold place of punishment is due to the demons: one, by reason of their sin, and this is hell; and another, in order that they may tempt men, and thus the darksome atmosphere is their due place of punishment. Now the procuring of men's salvation is prolonged even to the judgment day: consequently, the ministry of the angels and wrestling with demons endure until then. Hence until then the good angels are sent to us here; and the demons are in this dark atmosphere for our trial: although some of them are even now in hell, to torment those whom they have led astray; just as some of the good angels are with the holy souls in heaven. But after the judgment day all the wicked, both men and angels, will be in hell, and the good in heaven.
Reply to Objection:
1. A place is not penal to angel or soul as if affecting the nature by changing it, but as affecting the will by saddening it: because the angel or the soul apprehends that it is in a place not agreeable to its will.
2. One soul is not set over another in the order of nature, as the demons are over men in the order of nature; consequently there is no parallel.
3. Some have maintained that the pain of sense for demons and souls is postponed until the judgment day: and that the beatitude of the saints is likewise postponed until the judgment day. But this is erroneous, and contrary to the teaching of the Apostle (2Co 5,1): "If our earthly house of this habitation be dissolved, we have a house in heaven." Others, again, while not admitting the same of souls, admit it as to demons. But it is better to say that the same judgment is passed upon wicked souls and wicked angels, even as on good souls and good angels.
Consequently, it must be said that, although a heavenly place belongs to the glory of the angels, yet their glory is not lessened by their coming to us, for they consider that place to be their own; in the same way as we say that the bishop's honor is not lessened while he is not actually sitting on his throne. In like manner it must be said, that although the demons are not actually bound within the fire of hell while they are in this dark atmosphere, nevertheless their punishment is none the less; because they know that such confinement is their due. Hence it is said in a gloss upon Jc 3,6: "They carry fire of hell with them wherever they go." Nor is this contrary to what is said (Lc 8,31), "They besought the Lord not to cast them into the abyss"; for they asked for this, deeming it to be a punishment for them to be cast out of a place where they could injure men. Hence it is stated, "They [Vulg. 'He'] besought Him that He would not expel them [Vulg. 'him'] out of the country" (Mc 5,10).