DOOM event involving automobiles/bus + Train + Plane....
Planes
Trains
Automobiles
More Automobile doom in Virginia
18 DECEMBER 2019
One Person Dead and Dozens of Vehicles Wrecked in Huge Truck Pile-Up on Interstate
One person was killed and several more injured in a major pile-up involving trucks and other vehicles on a stretch of Pennsylvania interstate highway on December 18. Some 37 patients were sent to one local hospital following the crash, which happened at about 1.30pm on Interstate 80 in Union County, according to reports. The highway was temporarily closed in both directions following the crash. Drivers told local media that snow squalls in the area had led to poor visibility around the time of the incident.
Source
22 DECEMBER 2019
Police: 63-vehicle pileup in Virginia results in injuries
WILLIAMSBURG, Va. (AP) -- A pileup involving more than 60 cars on a major interstate in Virginia on Sunday morning injured dozens of people, some critically, according to state police. The accident happened just before 8 a.m. Sunday on Interstate 64 in York County and for a time shut down traffic in both directions, Virginia State Police Sgt. Michelle Anaya said in a statement. The agency tweeted that there was fog and ice along a bridge when what was described as a chain-reaction wreck began. Sixty-three vehicles were involved, and 35 people were transported for treatment of injuries, Anaya said late Sunday morning. She said an unspecified number of those people had injuries considered critical. There were no immediate reports of fatalities. Eastbound lanes eventually reopened, but westbound lanes remained closed hours after the crash, according to the Virginia Department of Transportation. An investigation was ongoing, and motorists were being asked to avoid the area.
Source
NEXT UP TRAIN DOOM......
21 DECEMBER 2019
Train Cars Derail, Fall into Potomac River in Harpers Ferry
A freight train crossing the Potomac River near Harpers Ferry derailed early Saturday morning, causing two cars to tip over a footbridge and plummet into the water. Seven cars derailed on the bridge, wiping out a section of a footbridge that's part of the famous Appalachian Trail, a major tourist draw for the town of Harpers Ferry. It appears no one was on the bridge at the time and no injuries were reported. The train was headed east over Winchester and Potomac Railroad Bridge between Harpers Ferry, West Virginia, and Maryland about 2:30 a.m., train operator CSX says. The empty grain cars derailed into the water and on the West Virginia shoreline, but the locomotive stayed ont the tracks, CSX says.
Source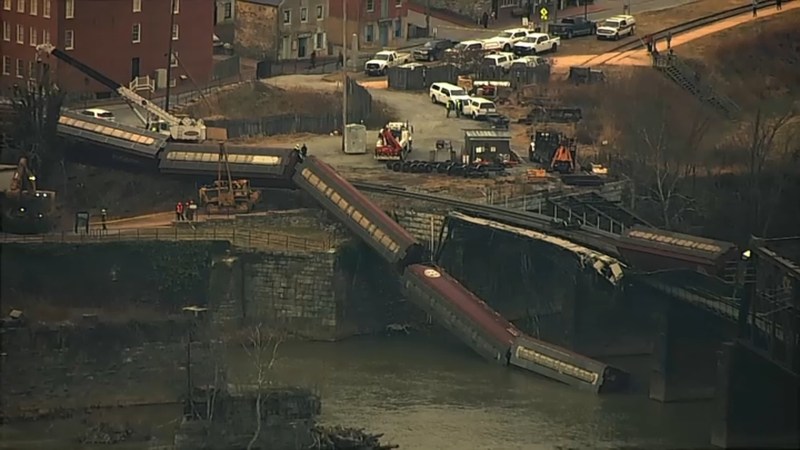 NEXT UP PLANE DOOM..........
WHAT?
27 DECEMBER 2019
A Fokker 100 with 95 passengers and five crew members on board has crashed into building in Kazakhstan
A plane carrying 100 people has crashed at Almaty airport, in Kazakhstan, killing at least nine people. On Friday morning Almaty airport said there were survivors and emergency workers were on site. Footage from the scene of the accident appeared to show the plane had collided with a building. Emergency services were combing through rubble. The Bek Air flight was en route from Almaty, Kazakhstan's largest city, to the country's capital of Nursultan. It took off at 7.22am local time.Kazakhstan's Civil Aviation Committee said in a statement the aircraft "lost altitude during takeoff and broke through a concrete fence" before hitting a small building. A Reuters reporter travelling to the airport said there was thick fog in the area. Bek Air operates a fleet of Fokker 100 jets. The aviation committee said it was suspending all flights of that type of aircraft pending an investigation.
Source