The darksome atmosphere is as a prison to the demons until the judgment day. They carry fire of hell with them wherever they go. The devils besought the Lord not to cast them into the abyss; for they asked for this, deeming it to be a punishment for them to be cast out of a place where they could injure men. Hence it is stated,They besought Him that He would not expel them out of the country. St Thomas Aquinas
In the year 1864, Lucifer together with a large number of demons will be unloosed from hell
Our Lady of La Salette 19 Sept. 1846
(Published by Mélanie 1879)
The demons of the air together with the Antichrist will perform great wonders on earth and in the atmosphere, and men will become more and more perverted.
Our Lady of La Salette 19 Sept. 1846
(Published by Mélanie 1879)
For the time has come when the most astonishing wonders will take place on the earth and in the air.
Our Lady of La Salette 19 Sept. 1846
(Published by Mélanie 1879)
Our wrestling is not against flesh and blood; but against Principalities and Powers, against the rulers of the world of this darkness, against the spirits of wickedness in the high places.
Ephesians 6:12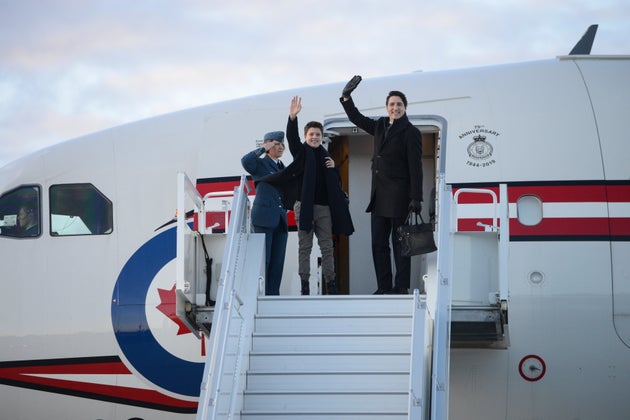 I will continue to pray during Mass - Arise, O Lord, let not man prevail....
Arise, O Lord, let not men in the Airline Industry prevail......
Trudeau's back-up plane grounded in London after jet damaged in hangar accident
Pain with planes also dogged Trudeau during the election campaign. On the first day, the chartered Liberal plane was knocked out of service when the media bus scraped the underside of a wing
OTTAWA — Prime Minister Justin Trudeau's bad luck with planes continues. He was forced to use a back-up aircraft Monday to ferry him to London for a NATO summit because the usual prime ministerial jet was damaged in a hangar accident last month. But after he got to London, the Royal Canadian Air Force discovered a problem with one of the engines on the backup plane during a post-flight inspection. The RCAF says that plane, a CC-150 Polaris, is being repaired but is temporarily "unserviceable." So, the RCAF has commandeered another CC-150 Polaris — which was in Italy with Gov. Gen. Julie Payette, who has been on a European tour of her own — to take Trudeau, his entourage and accompanying media back to Ottawa. Source
GRADUAL Ps. 9:10-11, 19-20. You are a helper to those in need, in time of distress. Let those who know You trust in You, O Lord, for You do not forsake those who seek You. For the needy shall not always be forgotten, nor shall the patience of the poor forever perish. Arise, O Lord, let not man prevail.
Read St Thomas on the Habitat of Demons....
1. Question 64. The punishment of the demons
2. Question 74. The fire of the final conflagration