Daniel's Second Beast BEAR = SOCIAL MEDIA: Facebook Employees In An Uproar Over Executive's Leaked Memo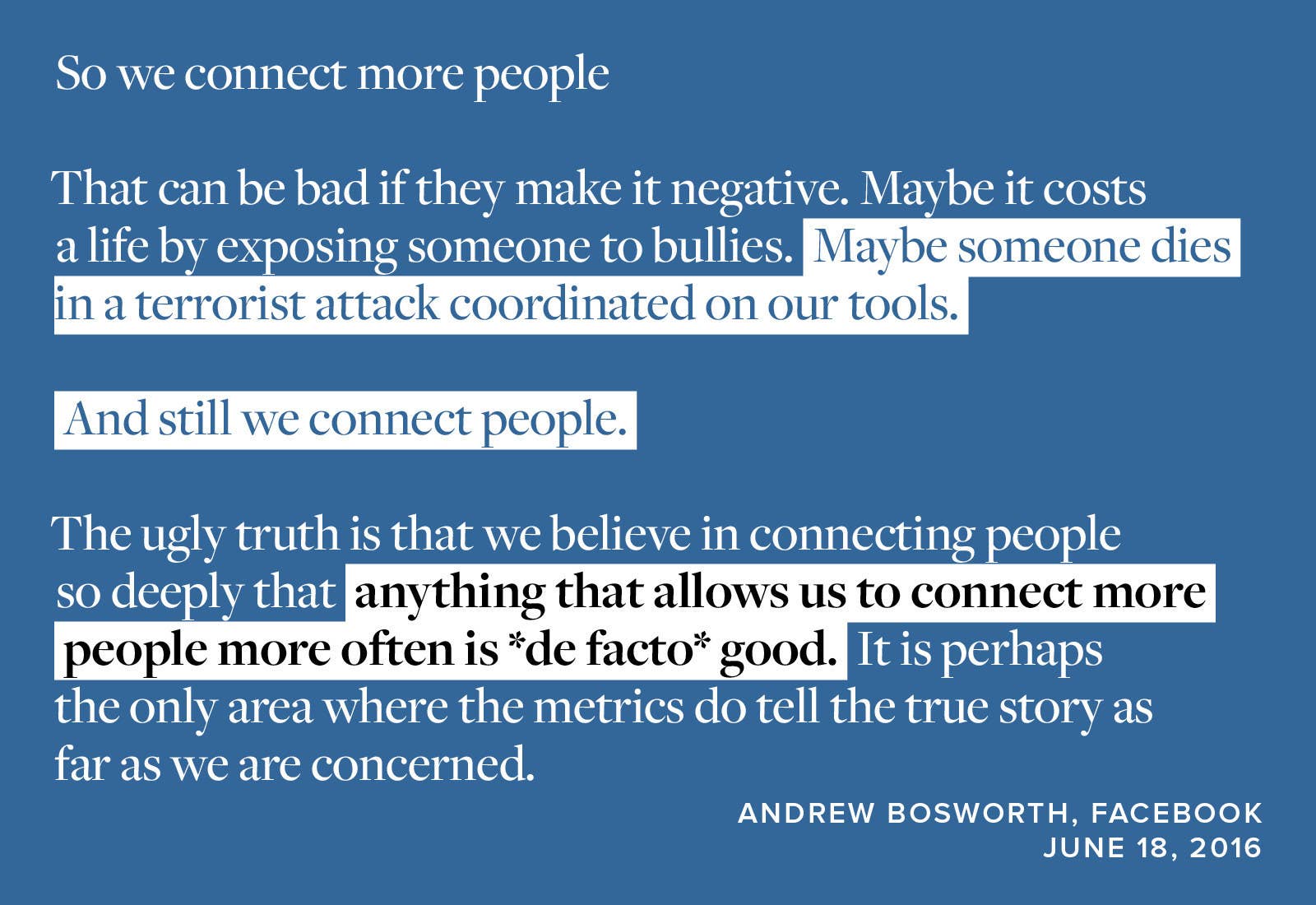 And behold another beast like a bear stood up on one side: and there were three rows in the mouth thereof, and in the teeth thereof, and thus they said to it: Arise, devour much flesh. Dan.7.4

The second Beast is Bear. BEAR = SOCIAL MEDIA (Facebook Twitter Instagram Google etc...)
Arise, devour much flesh......
Facebook Employees in an Uproar Over Executive's Leaked Memo
SAN FRANCISCO — Facebook employees were in an uproar on Friday over a leaked 2016 memo from a top executive defending the social network's growth at any cost — even if it caused deaths from a terrorist attack that was organized on the platform. In the memo, Andrew Bosworth, a Facebook vice president, wrote, "Maybe someone dies in a terrorist attack coordinated on our tools. And still we connect people. The ugly truth is that we believe in connecting people so deeply that anything that allows us to connect more people more often is *de facto* good." Mr. Bosworth and Facebook's chief executive, Mark Zuckerberg, have since disavowed the memo, which was published on Thursday by BuzzFeed News.
Source
Arise, devour much flesh......

The Four beasts of Daniel are:

FIRST BEAST LIONESS WITH WINGS OF AN EAGLE = THE AIRLINE AND SPACE INDUSTRIES

1. The first was like a lioness, and had the wings of an eagle: I beheld till her wings were plucked off, and she was lifted up from the earth, and stood upon her feet as a man, and the heart of a man was given to her

SECOND BEAST BEAR = SOCIAL MEDIA (facebook twitter etc...)

2. And behold another beast like a bear stood up on one side: and there were three rows in the mouth thereof, and in the teeth thereof, and thus they said to it: Arise, devour much flesh.

THIRD BEAST LEOPARD = NATIONALISM OF THE FORERUNNER TO THE ANTICHRIST (HE WHO MURDERS THE FATIMA POPE WITH AN ARMY MADE UP OF MANY NATIONS)

3. After this I beheld, and lo, another like a leopard, and it had upon it four wings as of a fowl, and the beast had four heads, and power was given to it.

FOURTH BEAST = THE ANTICHRIST (THIS IS CHURCH DOCTRINE AS ALL FATHERS TESTIFY)

4. After this I beheld in the vision of the night, and lo, a fourth beast, terrible and wonderful, and exceeding strong, it had great iron teeth, eating and breaking in pieces, and treading down the rest with its feet: and it was unlike to the other beasts which I had seen before it, and had ten horns.

All four beast are different from one another - the third and fourth beasts are political in nature but different - the third being man-made nationalistic political authority and the fourth being man-made universal political authority.

I think this is in line with what the Church Fathers would say.

If you find fault in this let me know.