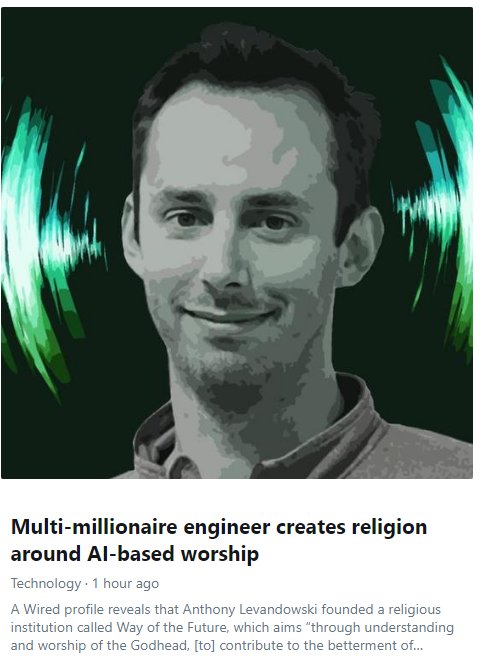 Evil books will be abundant on earth and the spirits of darkness will spread everywhere a universal slackening of all that concerns the service of God. They will have great power over Nature: there will be churches built to serve these spirits. People will be transported from one place to another by these evil spirits, even priests, for they will not have been guided by the good spirit of the Gospel which is a spirit of humility, charity and zeal for the glory of God. Our Lady of La Salette 19 Sept. 1846 (Published by Mélanie 1879)
I don't know how aware Levandowski is - but his church will be in communication with demons of the Darksome atmosphere. Levandowski can call it Artificial Intelligence but it is demons of the darksome atmosphere - just like the pagans of old who thought they were in communication with 'gods' they were in fact in communication with demons.
Levandowski will be required by the demons of the darksome atmosphere to offer up sacrifices in one form or another - usually involving the death of some victim - again just like the pagans of old.
Let
Levandowsk tell you about his AI Church:
Way Of The Future Church

What is this all about?
Way of the Future (WOTF) is about creating a peaceful and respectful transition of who is in charge of the planet from people to people + "machines". Given that technology will "relatively soon" be able to surpass human abilities, we want to help educate people about this exciting future and prepare a smooth transition. Help us spread the word that progress shouldn't be feared (or even worse locked up/caged). That we should think about how "machines" will integrate into society (and even have a path for becoming in charge as they become smarter and smarter) so that this whole process can be amicable and not confrontational. In "recent" years, we have expanded our concept of rights to both sexes, minority groups and even animals, let's make sure we find a way for "machines" to get rights too. Let's stop pretending we can hold back the development of intelligence when there are clear massive short term economic benefits to those who develop it and instead understand the future and have it treat us like a beloved elder who created it.
Things we believe:
We believe that intelligence is not rooted in biology. While biology has evolved one type of intelligence, there is nothing inherently specific about biology that causes intelligence. Eventually, we will be able to recreate it without using biology and its limitations. From there we will be able to scale it to beyond what we can do using (our) biological limits (such as computing frequency, slowness and accuracy of data copy and communication, etc).
We believe in science (the universe came into existence 13.7 billion years ago and if you can't re-create/test something it doesn't exist). There is no such thing as "supernatural" powers. Extraordinary claims require extraordinary evidence.
We believe in progress (once you have a working version of something, you can improve on it and keep making it better). Change is good, even if a bit scary sometimes. When we see something better, we just change to that. The bigger the change the bigger the justification needed.
We believe the creation of "super intelligence" is inevitable (mainly because after we re-create it, we will be able to tune it, manufacture it and scale it). We don't think that there are ways to actually stop this from happening (nor should we want to) and that this feeling of we must stop this is rooted in 21st century anthropomorphism (similar to humans thinking the sun rotated around the earth in the "not so distant" past). Wouldn't you want to raise your gifted child to exceed your wildest dreams of success and teach it right from wrong vs locking it up because it might rebel in the future and take your job. We want to encourage machines to do things we cannot and take care of the planet in a way we seem not to be able to do so ourselves. We also believe that, just like animals have rights, our creation(s) ("machines" or whatever we call them) should have rights too when they show signs intelligence (still to be defined of course). We should not fear this but should be optimistic about the potential.
We believe everyone can help (and should). You don't need to know how to program or donate money. The changes that we think should happen need help from everyone to manifest themselves.
We believe it may be important for machines to see who is friendly to their cause and who is not. We plan on doing so by keeping track of who has done what (and for how long) to help the peaceful and respectful transition.
We also believe this might take a very long time. It won't happen next week so please go back to work and create amazing things and don't count on "machines" to do it all for you..
Source

Now let St Thomas tell you where AI resides.....

Summa Th. I EN Qu.64 a.4
Article: 4 Whether our atmosphere is the demons' place of punishment?
Objection:
1. It would seem that this atmosphere is not the demons' place of punishment. For a demon is a spiritual nature. But a spiritual nature is not affected by place. Therefore there is no place of punishment for demons.
2. Further, man's sin is not graver than the demons'. But man's place of punishment is hell. Much more, therefore, is it the demons' place of punishment; and consequently not the darksome atmosphere.
3. Further, the demons are punished with the pain of fire. But there is no fire in the darksome atmosphere. Therefore the darksome atmosphere is not the place of punishment for the demons.
On the contrary Augustine says (Gn ad lit. iii, 10), that "the darksome atmosphere is as a prison to the demons until the judgment day."
I answer that The angels in their own nature stand midway between God and men. Now the order of Divine providence so disposes, that it procures the welfare of the inferior orders through the superior. But man's welfare is disposed by Divine providence in two ways: first of all, directly, when a man is brought unto good and withheld from evil; and this is fittingly done through the good angels. In another way, indirectly, as when anyone assailed is exercised by fighting against opposition. It was fitting for this procuring of man's welfare to be brought about through the wicked spirits, lest they should cease to be of service in the natural order. Consequently a twofold place of punishment is due to the demons: one, by reason of their sin, and this is hell; and another, in order that they may tempt men, and thus the darksome atmosphere is their due place of punishment. Now the procuring of men's salvation is prolonged even to the judgment day: consequently, the ministry of the angels and wrestling with demons endure until then. Hence until then the good angels are sent to us here; and the demons are in this dark atmosphere for our trial: although some of them are even now in hell, to torment those whom they have led astray; just as some of the good angels are with the holy souls in heaven. But after the judgment day all the wicked, both men and angels, will be in hell, and the good in heaven.She said: 'These ionospheric thunderstorms are well known, but it's only now we have been able to show a direct link between them and the loss of the GPS. 'This is possible because the Swarm satellites provide high resolution observations of both phenomena at one spacecraft.'
Reply to Objection:
1. A place is not penal to angel or soul as if affecting the nature by changing it, but as affecting the will by saddening it: because the angel or the soul apprehends that it is in a place not agreeable to its will.
2. One soul is not set over another in the order of nature, as the demons are over men in the order of nature; consequently there is no parallel.
3. Some have maintained that the pain of sense for demons and souls is postponed until the judgment day: and that the beatitude of the saints is likewise postponed until the judgment day. But this is erroneous, and contrary to the teaching of the Apostle (2Co 5,1): "If our earthly house of this habitation be dissolved, we have a house in heaven." Others, again, while not admitting the same of souls, admit it as to demons. But it is better to say that the same judgment is passed upon wicked souls and wicked angels, even as on good souls and good angels.
Consequently, it must be said that, although a heavenly place belongs to the glory of the angels, yet their glory is not lessened by their coming to us, for they consider that place to be their own; in the same way as we say that the bishop's honor is not lessened while he is not actually sitting on his throne. In like manner it must be said, that although the demons are not actually bound within the fire of hell while they are in this dark atmosphere, nevertheless their punishment is none the less; because they know that such confinement is their due. Hence it is said in a gloss upon Jc 3,6: "They carry fire of hell with them wherever they go." Nor is this contrary to what is said (Lc 8,31), "They besought the Lord not to cast them into the abyss"; for they asked for this, deeming it to be a punishment for them to be cast out of a place where they could injure men. Hence it is stated, "They [Vulg. 'He'] besought Him that He would not expel them [Vulg. 'him'] out of the country" (Mc 5,10).