The darksome atmosphere is as a prison to the demons until the judgment day. They carry fire of hell with them wherever they go. The devils besought the Lord not to cast them into the abyss; for they asked for this, deeming it to be a punishment for them to be cast out of a place where they could injure men. Hence it is stated,They besought Him that He would not expel them out of the country. St Thomas Aquinas




The demons of the air together with the Antichrist will perform great wonders on earth and in the atmosphere, and men will become more and more perverted.

Our Lady of La Salette 19 Sept. 1846

(Published by Mélanie 1879)




For the time has come when the most astonishing wonders will take place on the earth and in the air.

Our Lady of La Salette 19 Sept. 1846

(Published by Mélanie 1879)
"Our wrestling is not against flesh and blood; but against Principalities and Powers, against the rulers of the world of this darkness, against the spirits of wickedness in the high places." Ephesians 6:12
Malaysia Airlines Statement
Malaysia Airlines flight MH1 from London-Heathrow landed on time in Kuala Lumpur on Sunday 5 June. During the flight over the Bay of Bengal the passenger seatbelt light was switched on due to air turbulence. Due to a brief moment of severe turbulence some passengers suffered minor injuries. Medical crew and Malaysia Airlines senior management met the aircraft on arrival in Kuala Lumpur International Airport (KLIA). A small number of affected passengers and crew have been treated by medical officers. Malaysia Airlines has assisted the 378 passengers and crew onboard MH1 and sincerely apologises for any inconvenience caused by this weather event which was entirely beyond our control.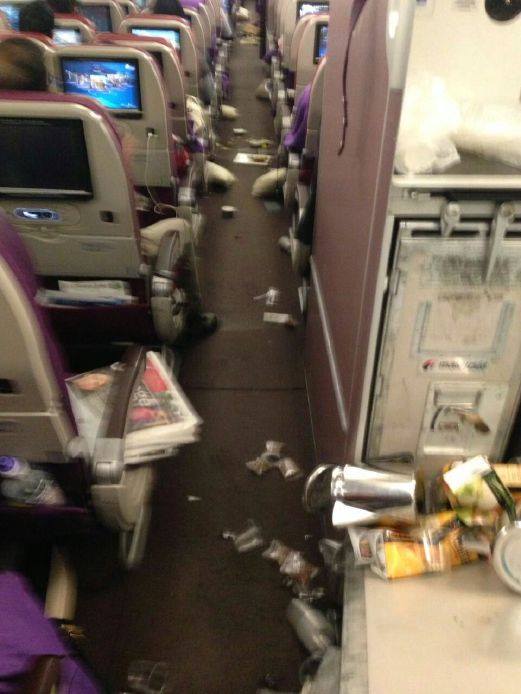 New Mayalsia Airlines horror as flight from London to Kuala Lumpur gets caught in severe turbulence leaving passengers and crew injured
A flight carrying 378 passengers and crew members encountered severe turbulence on a journey from London to Kuala Lumpur - leaving some of those on board injured. Malaysia Airlines flight MH1 experienced 'a brief moment of severe turbulence' over the Bay of Bengal today, the airline said in a statement. Photos shared across social media showed toppled food carts, food strewn all over the aisle and cracks in overhead passenger units.
Daily Mail Read More>>>>>>>
Now for St Thomas on the habitat of Demons that everyone likes to ignore....happy flying....
Article: 4 Whether our atmosphere is the demons' place of punishment?
1. It would seem that this atmosphere is not the demons' place of punishment. For a demon is a spiritual nature. But a spiritual nature is not affected by place. Therefore there is no place of punishment for demons.
2. Further, man's sin is not graver than the demons'. But man's place of punishment is hell. Much more, therefore, is it the demons' place of punishment; and consequently not the darksome atmosphere.
3. Further, the demons are punished with the pain of fire. But there is no fire in the darksome atmosphere. Therefore the darksome atmosphere is not the place of punishment for the demons.
On the contrary Augustine says (Gn ad lit. iii, 10), that "the darksome atmosphere is as a prison to the demons until the judgment day."
I answer that The angels in their own nature stand midway between God and men. Now the order of Divine providence so disposes, that it procures the welfare of the inferior orders through the superior. But man's welfare is disposed by Divine providence in two ways: first of all, directly, when a man is brought unto good and withheld from evil; and this is fittingly done through the good angels. In another way, indirectly, as when anyone assailed is exercised by fighting against opposition. It was fitting for this procuring of man's welfare to be brought about through the wicked spirits, lest they should cease to be of service in the natural order. Consequently a twofold place of punishment is due to the demons: one, by reason of their sin, and this is hell; and another, in order that they may tempt men, and thus the darksome atmosphere is their due place of punishment. Now the procuring of men's salvation is prolonged even to the judgment day: consequently, the ministry of the angels and wrestling with demons endure until then. Hence until then the good angels are sent to us here; and the demons are in this dark atmosphere for our trial: although some of them are even now in hell, to torment those whom they have led astray; just as some of the good angels are with the holy souls in heaven. But after the judgment day all the wicked, both men and angels, will be in hell, and the good in heaven.
1. A place is not penal to angel or soul as if affecting the nature by changing it, but as affecting the will by saddening it: because the angel or the soul apprehends that it is in a place not agreeable to its will.
2. One soul is not set over another in the order of nature, as the demons are over men in the order of nature; consequently there is no parallel.
3. Some have maintained that the pain of sense for demons and souls is postponed until the judgment day: and that the beatitude of the saints is likewise postponed until the judgment day. But this is erroneous, and contrary to the teaching of the Apostle (2Co 5,1): "If our earthly house of this habitation be dissolved, we have a house in heaven." Others, again, while not admitting the same of souls, admit it as to demons. But it is better to say that the same judgment is passed upon wicked souls and wicked angels, even as on good souls and good angels.


Consequently, it must be said that, although a heavenly place belongs to the glory of the angels, yet their glory is not lessened by their coming to us, for they consider that place to be their own; in the same way as we say that the bishop's honor is not lessened while he is not actually sitting on his throne. In like manner it must be said, that although the demons are not actually bound within the fire of hell while they are in this dark atmosphere, nevertheless their punishment is none the less; because they know that such confinement is their due. Hence it is said in a gloss upon Jc 3,6: "They carry fire of hell with them wherever they go." Nor is this contrary to what is said (Lc 8,31), "They besought the Lord not to cast them into the abyss"; for they asked for this, deeming it to be a punishment for them to be cast out of a place where they could injure men. Hence it is stated, "They [Vulg. 'He'] besought Him that He would not expel them [Vulg. 'him'] out of the country" (Mc 5,10).